February 25, 2022
The Fun Fellowship
The Discipleship Ministry's first Fun Fellowship was held on Sunday, 28 November 2021 for the team members and respondents to strengthen their love and care for one another and their faith in our Lord Jesus Christ. The theme "Bearing the Fruit of the Spirit" (Galatians 5:22-23) was chosen to reflect the lifestyle of a discipler in impacting the life of a disciple. We rejoiced to see that 89 team members and respondents attended the event!
The fellowship began with an enthusiastic, vibrant theme song followed by an ice-breaker that used hand actions to describe the fruit of the Spirit.
We had a time of worship and were exhorted by the message by the ministry coordinator, Stephen Liu. He encouraged us to bear fruits for Jesus by abiding in Him as we walk in the Spirit, to be led by His grace and power, and through prayer and reading the Word of God.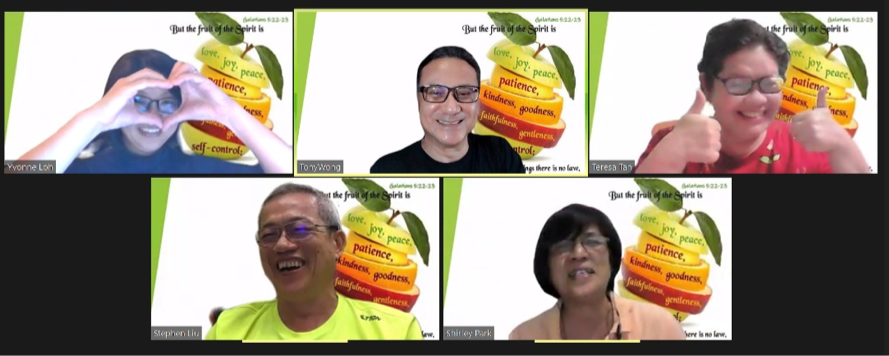 ​
Some of the participants using hand gestures to describe the "fruits of the Spirit"
There were ten powerful testimonies shared by the team members and respondents that spoke of God's healing and deliverance, of spiritual growth, and of patience, trust, and faith in the Lord Jesus Christ through challenging times. The respondents thanked God and appreciated the prayer support and help from our Discipleship Ministry.
Testimony of Anne Wong, a team member –
"More than a month ago, I was overwhelmed with family, job, and ministry responsibilities, so I earnestly prayed to God for help. The Lord assured me He would help me when I surrendered everything to Him, which I did. Meanwhile, I reconnected with a respondent who had not been responsive to follow-ups since 2019 as it was impressed upon my heart to do so, and we have now reconnected. Amazingly, not only could I see each of my personal matters that I could not complete by myself being solved, I could see how God has built my character, training me in the aspects of submission, obedience, perseverance, and a lot of patience. Furthermore, I thank God for 14 of my respondents are here today to be blessed in this fellowship."
Testimony of Soo Jing Wen, a respondent –
"I was having severe depression last year and I came across a counsellor at Calvary Church who has helped me to open up. One day, I responded to her encouragement to watch the online church worship service. To my surprise, it was like every message was directed to me; I found answers to all of my questions. I teared up and felt my spirit being lifted after the session. I thank the discipleship team for following up on me."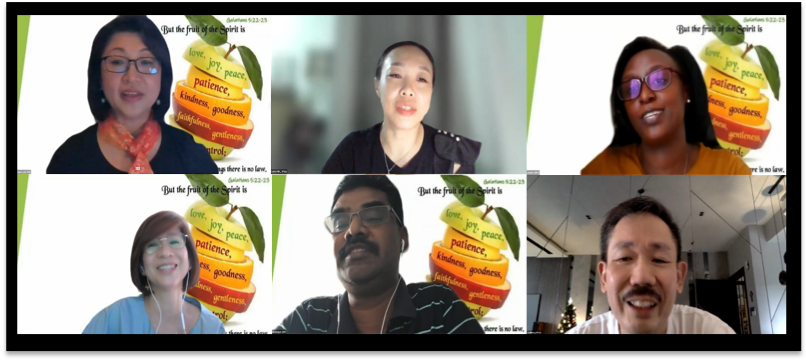 ​
​Participants sharing about God's blessings in their lives
A short video titled "The Present" that resonated with the theme was played for the discussion about the fruit of the Spirit in our lives. In breakout rooms, we had a good time sharing with and getting to know one another.
"Once the seed of faith takes root, it cannot be blown away, even by the strongest wind," a quote from a powerful short video titled "The Seed".
Pastor Susan Tan rounded up the fellowship by encouraging us to centre Jesus in our lives, to remember that we have the Holy Spirit, and that we need His baptism empowering us to live for Him to bear fruit for His glory.
We invite you to be part of the Discipleship Team. Click here to register for training on a four-consecutive Sundays, 13 March to 3 April 2022.